Get extra rewards from WeTrade Wallet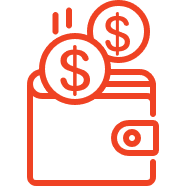 The points income for WeTrade Wallet will increase 2 points only in May,you can get extra point rewards to redeem more cash bonus or gift for free.
>> Promotion Content <<
Promotion Period:00:00 1st May 2022 – 00:00 1st June 2022 (GMT+3)
Participants:All WeTrade Clients
Promotion Detail:During the promotion period, you can get extra rewards from WeTrade Wallet. Your point income will increase 2 points on every level as following:
| Trading Volume | Original Point Income | May Point Income |
| --- | --- | --- |
| < 1 | 0 | 0 |
| 1-4.99 | 3 | 5 |
| 5-19.99 | 4 | 6 |
| 20-49.99 | 5 | 7 |
| 50-99.99 | 6 | 8 |
| ≥100 | 7 | 9 |
>> Terms and Conditions <<
Terms and Conditions
The client's daily rewarded points are equivalent to the wallet's balance of the day /10,000 * Point Income.

The minimum deposit amount is the minimum value of the wallet a day ago. It is calculated on the transaction day during trading days.

The point income is based on the trading volume in the previous month. If the trading volume of the current month is more than the previous month, then the calculation is based on this month.

The WeTrade Reward Points will be automatically credited to the client's WeTrade Reward Mall, does not need to claim the reward manually. Rewarded points will not expire and it can be used to redeem items from the WeTrade Reward Mall.

Available for all trading instruments apart from index,cryptocurrencies and stocks.

Points awarded to clients are rounding to two decimal places.

The client will receive the points on the next day at 00:00(MT4 Time).

WeTrade has the right to adjust the profit level at any time and disqualify any client and reserves the right to change the terms of the campaign or cancel it at any time without prior notice.